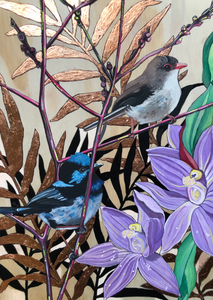 Wren couple with purple orchids
Organic Cotton Tea Towel 
Measures 50cm x 70cm
'Wren couple with purple orchids' artist tea towel in natural organic cotton made in Australia.
This artwork features a Native Australian birds with flora and seed pods in watercolour on plywood by the artist Katie Sandison in 2018 from her Native Australian species series.
Printed in Australia on ACO Certified Organic Cotton.